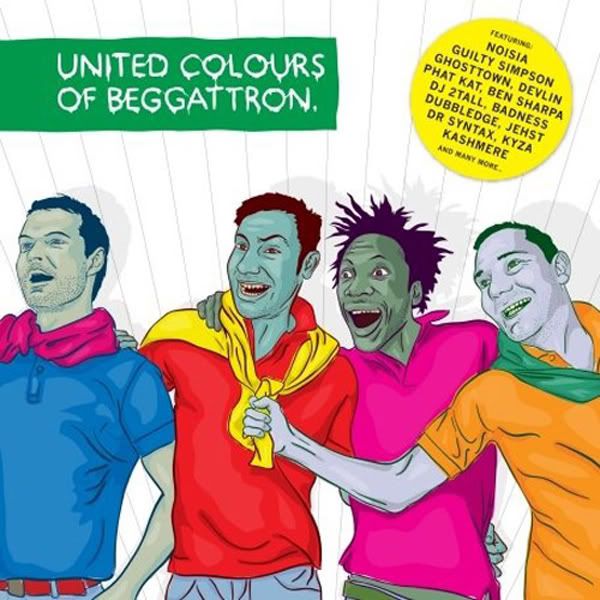 Bridging the gap between US gangsta rap and the London grime scene, (but delivered without any of the pretentiousness) MC's Orifice Vulgatron, Metropolis, DagNabbit and DJ Nonames, collectively known as
Foreign Beggars
, release their highly anticipated third album,
United Colours of Beggatron.
The whole album is on an electronic tip, with dubstep, drum & bass and electro all getting a nod. Maybe that is not everyone's idea of hip hop, but don't think every track on here is a rowdy, grimey assault on the eardrums. There are some lovely beats, like the posse cut, "Keep It Comin'" - featuring Jehst, Kyza and Syntax - and the opening track, "Move Higher", featuring the dulcet tones of Audra Nishita.
All round, a pretty damn good album...definitely one of the highlights of the year. Be sure to
cop yourself a copy now!
Out to Sam for sending my copy through ahead of release.
Tracklisting...
1. Intro
2. Higher (ft Audra Nishita)
3. Keep It Comin' (ft Jehst, Kyza & Dr Syntax)
4. Break Free (ft Audra & Kai Nishita)
5. Don't Dhoow It (ft King Knut)
6. Hereford Hospital (Skit)
7. Seven Figure Swagger (ft Dubbledge, Badness & Rednaz)
8. Contact (ft Noisia)
9. Shake It (ft Noisia)
10. Get A Bit More
11. Corridors (Skit)
12. Asylum Bound (ft Ben Sharpa)
13. Big N Black (ft Phat Kat)
14. Prove It (ft Guilty Simpson)
15. Some Advice (Skit)
16. No More (ft Kashmere, Jehst & DJ 2Tall)
17. Keepin The Line Fat (ft Graziella)
18. No Holes Barred (ft Devlin, Noisia & DJ 2Tall)
19. Safedrian