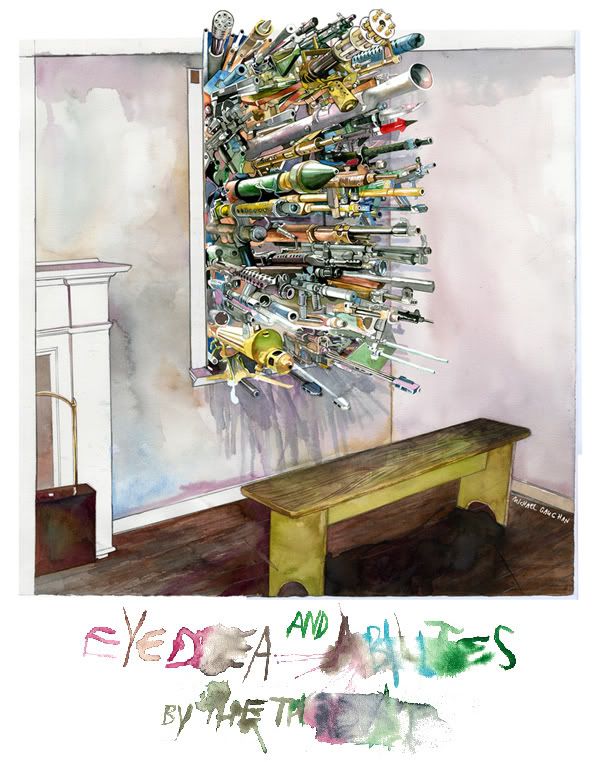 So after a five year break exploring new sounds and building their personal repertoires, the dynamic DJ/MC duo of Eyedea (Mike Averill) & Abilities (Gregory Keltgen) return with a strong follow up to their 2004 critically acclaimed album E&A. By The Throat is their first album five years and that time has certainly matured and refined these two and their music alike.
Abilities uses sounds ranging from rock'n'roll guitars to his turntable work, that he's more widely known for. This album is their rawest collection of songs to date, heavy feedback and guitar draped beats, sounds that would normally be more at home on a rock/indie album. However despite this, it really does work well with Eyedea's lyrics, which are pretty much as varied as ever before. Heavy rifts and melodic songwriting are carefully balanced with a good dose of turntable wizardry from Abilities.
In addition to rhyming about loss and addiction, topics as esoteric as neuroscience and quantum physics are addressed. The slight abstract nature of this album is also very apparent in the album cover and artwork completed by artist,
Michael Gaughan.
By The Throat holds no prisoners and advances far beyond
Eyedea & Abilities
battle tested history (winners of HBO Blaze Battle, Rocksteady, Scribble Jam and the DMC's). The end result is leaps and bounds beyond what Eyedea is perhaps best known for, his prowness as a battle rapper and is, in terms of an album, a million miles from previously released E&A.
So to conclude, they've mostly left behind the aggressive, battle-centric lyrics and turntablism that were present on E&A in favour of a more indie rock/electronic type sound this time round. I'm sure die hard
Eyedea & Abilities
fans may be shocked at the apparent change of tone and style of their most recent release, but music and artists change right? Music is a constant evolution of trends, styles and sounds. This one is a welcome change for sure, bringing something fresh forward in what has otherwise been a fairly average and uneventful year of music. They've dared to take a different path and in my eyes, this is certainly one strong return album they've managed to pull off.