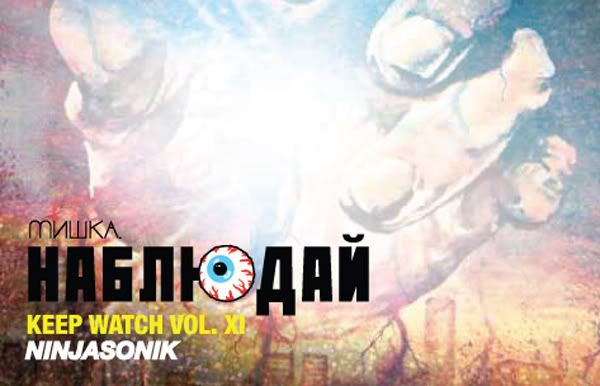 DOWNLOAD / MISHKA KEEP WATCH VOL. XI: NINJASONIK
You know we love Ninjasonik. So it's only fitting that on the heels of the Darth Baño party and mix, that we handed over the keys to the Brooklyn trio for Keep Watch Volume 11. In fine fair, this mix is straight-up get-drunk-and-high-bathroom-fucking music.

Ninjasonik is a musical collaboration started by New York based artists Reverend McFly (MC and DJ - a.k.a. Jah Jah Brown) and Teenwolf (Producer and DJ - a.k.a. k.ross), later fortified by the addition of Telli "Bathroom Sexxx" Federline on the motormouth. The varied backgrounds combine to coin a totally newfangled club punk rap sound. Regularly covering seminal punk bands like Bad Brains and Minor Threat and remixing some of their favorite bands like The Death Set, Matt & Kim, and Team Robespierre has propelled Ninjasonik into a league of their own. Ninjasonik began to record original songs in 2007, and have played and recorded with a long list of amazing artists, such as Japanther, Spankrock, Dan Deacon, The Cool Kids, Matt & Kim, Ponytail, Fiasco, the Homosexuals, Vivian Girls, Best Fwends, and many more and in summer of 2008 they released their first EP on Chief Records.