Found this the other day, a pretty nice controller and game adaptation for the Nintendo Wii. Designed by a group of German media students, WiiSpray consists of a new piece of graffiti software and spray can controller and shows yet another different take on how to utilize the worlds most interactive gaming console. If this does reach a final release I'm making sure I get my hands on one of these! After such successes as WiiFit, it would be a shame for this not to hit the shelves.
The foundational basis for the project goes well beyond replacing real graffiti as an art form. Moreover, WiiSpray
is to be seen as an interface to give graffiti a new virtual level surpassing tactile boundaries of the tangible world.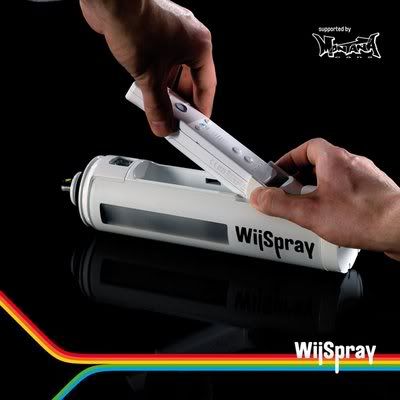 The actual hardware tool of the artist – the spraying can – remains constant in its shape and function and is a catalyst for this software supporting innovative computer interaction. The self-explanatory program requires no previous knowledge or reference of a user's manual.
This software allows users to make the game all their own, offering a wide range of colors, interchangable caps, along with the possibility to incorporate the user's personal photos, graphics, and backgrounds into the setting.