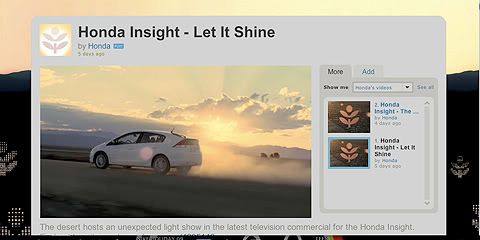 Honda's latest television commercial for the Honda Insight is really something else. Using hundreds of car headlight to create, in effect, one of the largest LED screens ever made. The desert light show really sets itself aside from your average, mundane tv ad.
On top of that, when viewed on the
Honda Vimeo page
, check out the amazing use of the whole page whilst viewing. Are we going to see more videos like this where Vimeo allow the take over of their whole page to bring the project to life? I think it really works! Anyway, below is a video showing the work that was put in to make this project possible, but to get the full effect you've got to
check out the advert here...