An interview between
Macneil BMX
and Sebastian Keep, looking back on last summer's
Brighton Ain't Ready
event and what went down in the six months of riding, parties and ping pong!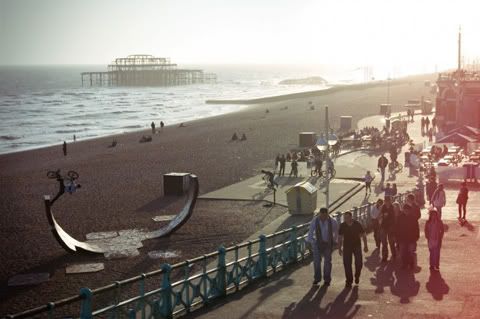 As soon as the
Seventies
Guys told us about their idea for the Brighton house we were sold. Our only question was, "how soon can we get in there?" Since a few of the guys were already scheduled to go to Estonia we just rescheduled the return trip to swing through Brighton. When the guys got home they were raving about how much fun they had. Bas and the guys from Seventies really took care of them and made sure the trip was so good that they made a second trip there before it was over. Thanks to everyone at Seventies for everything they did for us. You guys rock!
Check out a little interview with Bas about chilling with the team, and how big time he is. By the way Bas, good job answering my asshole questions so politically correctly.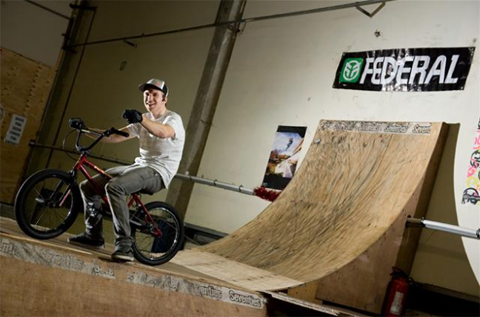 The man who held down the Brighton house.
1. Okay Bas it's time to tell the truth, how much cooler was it when the MacNeil team came to the house compared to all the other teams?
The MacNeil guys came to the brighton crib first and as soon as they arrived I was like shit, this is actually happening. I didnt know how they wanted to approach things but it quickly became clear that they weren't trying to stress about being productive and all that they just wanted to have a good time. They loved being in brighton and they all made the most of every minute of it. We had some funny nights out on the town, some testosterone fuelled ping-pong matches and all the guys rode so good! Nick, Gary, Harrison and Kym were all fucking rad!!! Harrison was so into it that he kept telling me he'd be back and when he did I had to leave to go on a vans trip. This time it was Harrison, Travis, Ali and Wolfman. Lacey kept telling me that it that was the best week in the flat and that Wolfman was the man!!! I was gutted i missed that week!!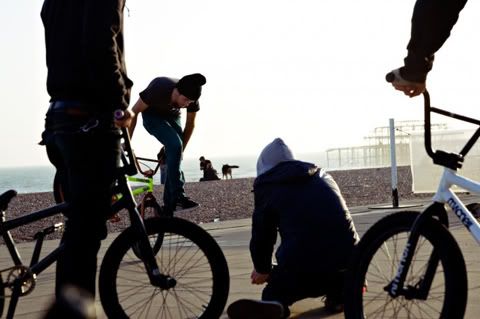 Travis Collier on the waterfront.
2. Which MacNeil rider ate the most fish and chips?
Fish n chips on the seafront was popular with MacNeil but id say Ali because he's english.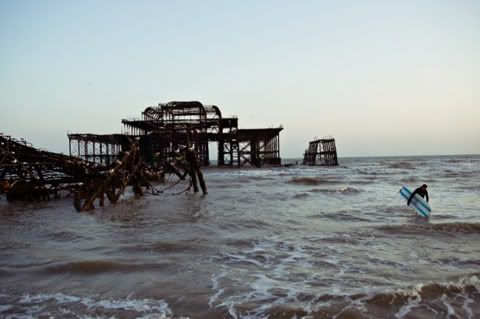 Surfin in the winter.
3. How bummed is Robin that he quit the team?
Haha, he was bummed to not be apart of it anymore. Robin is fucking halarious and wants BMX to bring him nothing but fun. He couldn't resist coming to Brighton when MacNeil were there and he was out every night!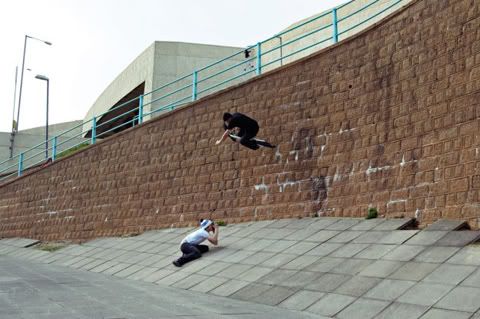 Wolfman blasting.
4. Did MacNeil riders ride for the "right reasons," or did they ride for all the ladies in Brighton?
The ladies gathered in their hundreds outside the apartment just to catch a glimpse of MacNeil!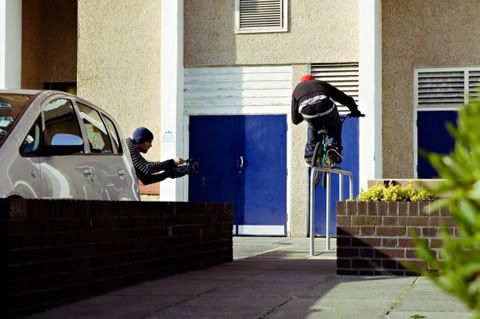 Ali with a ledge hop to double peg.
5. Are you going to miss living in the house, or by the end were you ready to jump off a building?
The idea of the project was for riders to come and enjoy their trip in the same way as when riders came to the Backyard Jams. The Backyard Jams were fun for everyone because there was so much more than riding involved. It was a good atmosphere and people partied hard. It seems like bmx is having a spell where contests arent where its at and trips which result in videos are what alot of people are doing. I think that sometimes those trips that are supposed to be fun end up being stressful for the riders. I wanted riders to come to brighton do whatever the hell they wanted whether it be nothing but party, or nothing but ride, or both. Because of the teams we had there, most dudes wanted to do both and as you know 6 months of continious partying and riding can be tiresome! i do miss it but now I've had sometime out I'd do it again in a hearbeat!!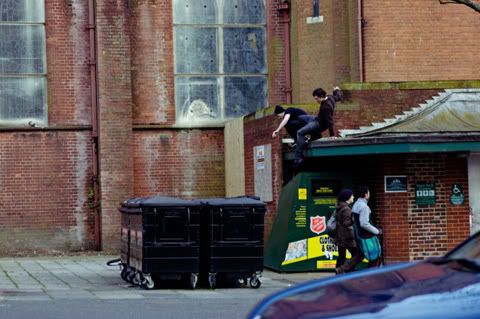 Dan Lacey and Robin Fenlon checking out some roof tranny.
6. Did you party way too much while you were there or was it pretty mellow?
Whenever someone new was in the house, if they wanted to go out I'd show them the spots. So yeah, there were lots of nights out!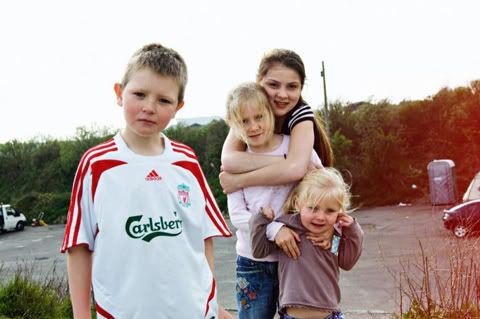 Gipsy kids by the racetrack.
7. Were there times when you were out filming with a bunch of guys and a dude was sweating a move that nine dudes did earlier that summer? Did you tell him, or did you just wait until the video came out and let him get crushed.
Sometimes Ed would tell them, but i never did, i just let them ride and do whatever they wanted to do. I didnt want to stop a rider when he is having fun, but mostly people did different shit from each other.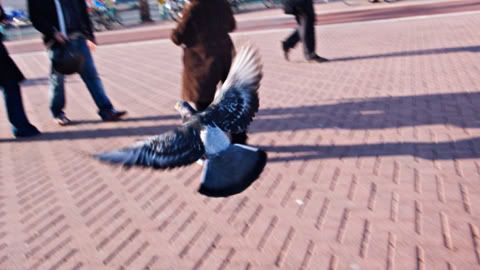 Ali was having some fun chasing birds on the pier.
8. How does it feel to be big time?
Miron, what the fuck is this question!!!